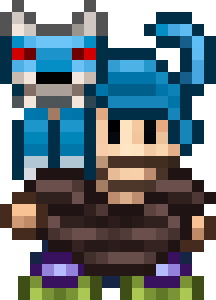 Posts: 2215
Joined: Sun Dec 18, 2011 10:20 am
Fri Mar 16, 2012 5:40 am
This spooky texture pack lets you turn jack in to a zombie, skeleton or slime!
Includes:
TwelveFoot's Tux (Thanks!)
Coloured Mining Helms
Slime Jack (Purple, Green and Dynaslime)
Skeleton Jack
Zombie Jack (Pink and Blue)
Christmas Jack (Thanks to Nicodemus!)
All in a .psd file. If you don't have photoshop (or similar) tell me what you want and I will upload them in a .png file for you! Remember to save it as a .png file.
Install Instructions:
viewtopic.php?f=21&t=2776
Download:
http://www.mediafire.com/i/?dzgab36sqiv1k1i
v1.1 Purple Slime Jack now included
v1.2 Dynaslime Jack, Blue variation of the zombie, Christmas Jack (Thanks to nicodemus for finding).
v1.3 Will possibly include mummy jack and mage skeleton jack.
Screenshot (Sorry about the size!)
Last edited by
Killerofsheep
on Thu Mar 22, 2012 3:14 am, edited 5 times in total.